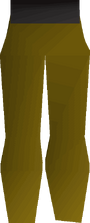 The Mourner trousers are part of the mourner set. To obtain them, players must kill a level 11 Mourner on the path to Prifddinas. However, the Mourner will bring all combat stats down to 20, so it is recommended players bring a stat restore potion before fighting.
When the player first obtains the trousers they are damaged and must be repaired. Players need to take 2 silks and a bear fur to Oronwen, the Elven Seamstress in Lletya, to have the trousers repaired. Her excellent sewing ability requires just under 2 minutes for each set of trousers you wish to repair.
If you already have a full mourner's set you can enter the Mourner's headquarters and go to the basement and kill a level 122 Mourner to get another Mourner's set, including a pair of trousers that will not need to be repaired.
This, along with the rest of the mourner gear cannot be used to enter the incinerator area north of West Ardougne.
Bonuses
Hover over image for type
 Attack bonus
+0
+0
+0
+0
+0
 Defence bonus
+0
+0
+0
+0
+0
Other bonuses
Slot

list

+0
0
0%
+0
Ad blocker interference detected!
Wikia is a free-to-use site that makes money from advertising. We have a modified experience for viewers using ad blockers

Wikia is not accessible if you've made further modifications. Remove the custom ad blocker rule(s) and the page will load as expected.