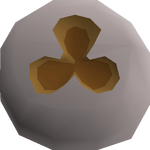 Mud runes are combination runes. They count as two separate runes: one water rune and one earth rune. Thus, any spell requiring one water rune, one earth rune or both will spend only one mud rune. They can be created with the Runecrafting skill, purchased with pizazz points from the Mage Training Arena, or looted from essence implings with 42 Hunter.
When equipped, the mud battlestaff and mystic mud staff will act as an unlimited number of mud runes.
Mud runes can be ground with a pestle and mortar to create ground mud runes. One ground mud rune is required to complete The Eyes of Glouphrie.
Runecrafting mud runes
Edit
At Runecrafting level 13 or higher, they can be crafted in either of two ways:
Tiaras will not work in place of talismans while crafting combination runes. Combinations have a 50% success rate (or 100%, if the player is wearing a binding necklace), and the talisman is consumed in the process (unless the player uses the Lunar spell Magic Imbue).
Spells that use both water and earth runes
Edit
| Icon | Spell | Level | Runes | Exp | Category | Spell Group | Notes |
| --- | --- | --- | --- | --- | --- | --- | --- |
| | Confuse | 3 | 123 | 13 | Combat | Standard | Reduces the target's attack level by 5%. |
| | Weaken | 11 | 123 | 21 | Combat | Standard | Reduces the target's strength level by 5%. |
| | Bones to Bananas | 15 | 122 | 25 | Skilling | Standard | Converts all bones in inventory into bananas. |
| | Draynor Manor Teleport | 17 | 111 | 16 | Teleport | Arceuus | Teleports to the front doors of Draynor Manor. |
| | Curse | 19 | 132 | 29 | Combat | Standard | Reduces the target's defence level by 5%. |
| | Bind | 20 | 133 | 30 | Combat | Standard | Prevents target from moving for 5 seconds. |
| | Snare | 50 | 344 | 60 | Combat | Standard | Prevents target from moving for 10 seconds. |
| | Bones to Peaches | 60 | 224 | 65 | Skilling | Standard | Converts all bones in inventory to peaches. Players must unlock this spell at the Mage Training Arena before using it. |
| | Vulnerability | 66 | 155 | 76 | Combat | Standard | Reduces the target's defence level by 10%. |
| | Lvl-5 Enchant | 68 | 11515 | 78 | Enchantment | Standard | Enchants dragonstone jewellery. |
| | Enfeeble | 73 | 188 | 83 | Combat | Standard | Lower's the target's strength level by 10%. |
| | Entangle | 79 | 455 | 89 | Combat | Standard | Prevents target from moving for 15 seconds. |
| | Stun | 80 | 11212 | 90 | Combat | Standard | Reduces the target's attack level by 10%. |
| | String Jewellery | 80 | 2105 | 44 | Skilling | Lunar | Strings all unstrung amulets in the caster's inventory. |
| | Stat Restore Pot Share | 81 | 21010 | 49 | Combat | Lunar | This spell can target up to 4 other players. Each target receives a dose of a restoration potion (such as a prayer potion) from the caster's inventory. |
| | Boost Potion Share | 84 | 31210 | 62 | Combat | Lunar | Has the same effect as Stat Restore Pot Share, except with a potion that boosts a stat (such as a strength potion). |
Dropping monsters
Edit
Elemental runes

Catalytic runes

 Mind •  Body •  Cosmic •  Chaos •  Astral •  Nature •  Law •  Death •  Blood •  Soul •  Wrath •  Cabbage