Mushroom spore
Release date
11 July 2005 (Update)
Farming level
53
Exchange price

99

coins (info)
Patch
Mushroom
Time
240 min (4x60 min) (4 hours)
Planting XP
61.5
Check-health XP
N/A
Harvesting XP
57.7
Payment
N/A
Tradeable?
Yes
High alch
51 coins
Low alch
34 coins
Store price
Not sold
Examine
A Bittercap mushroom spore - plant in a mushroom patch.
[view] • [talk]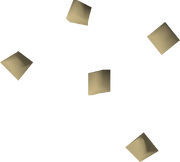 Mushroom spores are used in the Farming skill and require level 53 in the skill to grow them. They are planted at the mushroom patch west of Canifis. Six mushrooms can be harvested. Successfully doing so is a hard task in the Morytania achievement diary. You cannot pay a farmer to protect this patch.
Eight mushrooms are used as farmer payment to watch over growing whiteberry seeds.
They can be obtained by pickpocketing from Master Farmers, which requires level 38 Thieving.
Dropping monsters
Edit
| Monster | Combat level | Quantity | Rarity |
| --- | --- | --- | --- |
| Ancient Zygomite | 109 | 1 | |
| Mountain troll | 69 | 1 | |
| Ogre | 53 | 1 | |
| Zygomite | 74; 86 | 1 | |
| Moss giant | 42 | 1 | |
| Ice warrior | 57 | 1 | |