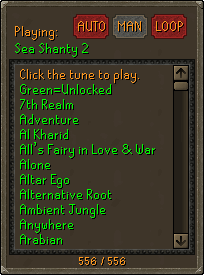 The Music Player is the screen on the interface where you can choose the theme music that is playing at the moment. The music is unlocked as you play the game and explore new places and contents.
Players can click on the loop button at the top of the screen. If it is on, the track played on that moment will automatically repeat itself. Players can also click on green titles to choose which track to listen to. Titles in red have not been unlocked, and thus cannot be played.
See also
Edit
Game-related

Music Player

List of music tracks

List of boss music • List of all music tracks • List of music in chronological order • Unlisted music tracks

Musical instruments

 Bells • Church organ •  Cowbells •  Enchanted lyre •  Organ •  Penguin bongos •  Slayer bell •  Snake charm •  Windchimes

Items with sound

Emotes with sound

Beckon • Idea • Stamp • Skillcape • Air Guitar
Ad blocker interference detected!
Wikia is a free-to-use site that makes money from advertising. We have a modified experience for viewers using ad blockers

Wikia is not accessible if you've made further modifications. Remove the custom ad blocker rule(s) and the page will load as expected.