Tier 1 Tier 2 Tier 3 Tier 4 Tier 5 Tier 6 Tier 7 Tier 8 Tier 9 Tier 10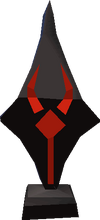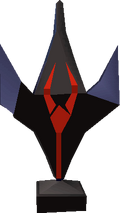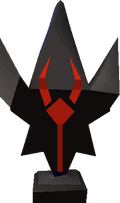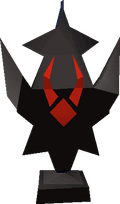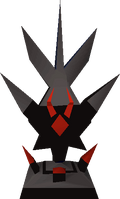 A mysterious emblem is received upon killing an assigned target in the Bounty Hunter minigame. It can also be obtained by killing various Wilderness bosses on World 318, the official Bounty Hunter world, or through wilderness slayer assignments. However, only the tier 1 emblem can be obtained as a drop from these methods, and to upgrade it players must still participate in the minigame.
Once players kill their target, they will have a chance of receiving the lowest tier, with the chance being dependent on the target's combat level, in addition to what their target risked. Emblems can be traded in at the Bounty Hunter Store in exchange for points, a currency used to purchase rewards from the shop.
Tiers and upgrading
Edit
There are 10 tiers of emblem with increasing values. Once a mysterious emblem is obtained, players can either trade it in to the Emblem Trader for points, or upgrade the emblem by killing more targets.
The points granted depend on the tier of the emblem:
Emblem
Points
Tier 1
50,000
Tier 2
100,000
Tier 3
200,000
Tier 4
400,000
Tier 5
750,000
Tier 6
1,200,000
Tier 7
1,750,000
Tier 8
2,500,000
Tier 9
3,500,000
Tier 10
5,000,000
Emblems are always lost upon death, so players will have to be willing to take on a loss to upgrade them. If a player is holding multiple emblems, only the highest tier emblem will be upgraded.
A mysterious emblem will be downgraded one tier as they are dropped on death. For example, if a player is killed and had a tier 9 emblem in their inventory, the victor will obtain a tier 8 emblem instead.
Dropping monsters
Edit
The following monsters only drop the mysterious emblem on a slayer assignment given by Krystilia. If the listed bosses (excluding Chaos Elemental) or demi-bosses are not being slayed on a slayer assignment given by Krystilia, they can only drop the emblem on World 318.
Prior to the update on 2 March 2017, mysterious emblems followed a different drop rate. Wilderness bosses had a 1/12 drop rate, while the demi-bosses had a 1/50 drop rate. The same update also made the tier 1 emblem tradeable on the Grand Exchange.
References
Edit
↑ Mod Ash. "Mysterious Emblem Drop Rate". 7 June 2017. Twitter

*
Bounty Hunter

 Mysterious emblem • Emblem Trader • Bounty Hunter Store

Rewards

Weapons

 Dragon scimitar •  Dragon longsword •  Dragon dagger •  Dragon battleaxe •  Dragon mace •  Dragon halberd •  Bolt rack •  Rune arrows •  Adamant arrows •  Crystal seed

Armour

 Helm of neitiznot •  Berserker helm •  Warrior helm •  Archer helm •  Farseer helm •  Mystic robe top •  Mystic robe bottom •  Mystic hat •  Mystic gloves •  Mystic boots •  Rune platebody •  Rune platelegs •  Rune plateskirt •  Climbing boots

Magic tablets

 Paddewwa •  Senntisten •  Annakarl •  Carrallangar •  Dareeyak •  Ghorrock •  Kharyrll •  Lassar

Cosmetic upgrades

| | |
| --- | --- |
| Cosmetic upgrade kits |  Green dark bow paint •  Yellow dark bow paint •  White dark bow paint •  Blue dark bow paint •  Volcanic whip mix •  Frozen whip mix •  Steam staff upgrade kit •  Lava staff upgrade kit •  Dragon pickaxe upgrade kit •  Ward upgrade kit •  Granite clamp |
| Ornamented items |  Volcanic abyssal whip •  Frozen abyssal whip •  Steam battlestaff •  Lava battlestaff •  Dragon pickaxe •  Odium ward •  Malediction ward •  Granite maul |

Miscellaneous

 Ring of wealth scroll •  Magic shortbow scroll •  Saradomin's tear •  Saradomin's blessed sword •  Rune pouch •  Looting bag •  Clue box •  Bounty teleport scroll •  Hunter's honour •  Rogue's revenge
Ad blocker interference detected!
Wikia is a free-to-use site that makes money from advertising. We have a modified experience for viewers using ad blockers

Wikia is not accessible if you've made further modifications. Remove the custom ad blocker rule(s) and the page will load as expected.