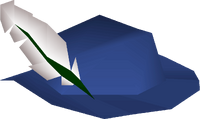 The navy cavalier is a piece of headwear. There are no requirements for wearing this cavalier, and they do not confer combat bonuses upon the player. To obtain a cavalier, a player can either trade with another player or receive one as a Level 3 Treasure Trail reward. The navy cavalier can be stored in the Treasure chest, which can be built in the Costume room of a player-owned house.
Bonuses
Hover over image for type
 Attack bonus
+0
+0
+0
+0
+0
 Defence bonus
+0
+0
+0
+0
+0
Other bonuses
Slot

list

+0
+0
+0%
+0
Trivia
The examine text, "All for one and one for all!" is a reference to The Three Musketeers, by Alexandre Dumas.
Melee

| | |
| --- | --- |
| God | |
| Trimmed |  Bronze (t) •  Bronze (g) •  Iron (t) •  Iron (g) •  Steel (t) •  Steel (g) •  Black (t) •  Black (g) •  Mithril (t) •  Mithril (g) •  Adamant (t) •  Adamant (g) •  Rune (t) •  Rune (g) •  Gilded |
| Other | |

Magic

| | |
| --- | --- |
| Trimmed | |
| Other |  Wizard boots •  3rd age •  Enchanted •  Darkness |

Ranged

| | |
| --- | --- |
| God | |
| Trimmed |  Studded (t) • Studded (g) •  Green d'hide (t) •  Green d'hide (g) •  Blue d'hide (t) •  Blue d'hide (g) •  Red d'hide (t) •  Red d'hide (g) •  Black d'hide (t) •  Black d'hide (g) |
| Other | |

Prayer

 Guthix •  Saradomin •  Zamorak •  Armadyl •  Bandos •  Ancient •  Holy sandals •  Holy wraps  Monk's robes (g)

Weapons

| | |
| --- | --- |
| Melee |  Black pickaxe •  Nunchaku •  Zombie head •  Gilded scimitar •  Gilded 2h sword •  Gilded spear •  Gilded hasta •  Katana •  3rd age longsword •  3rd age axe •  3rd age pickaxe |
| Magic |  3rd age wand |
| Ranged |  Willow composite bow •  Yew composite bow •  Magic composite bow •  3rd age bow |
| Canes | |

Kourend house items

| | |
| --- | --- |
| House banners |  Arceuus •  Hosidius•  Lovakengj •  Piscarilius •  Shayzien |
| House scarves |  Arceuus •  Hosidius•  Lovakengj •  Piscarilius •  Shayzien |
| House hoods |  Arceuus •  Hosidius•  Lovakengj •  Piscarilius •  Shayzien |

Headwear

 Beanie •  Golden chef's hat •  Highwayman mask •  Pirate's hat •  Pith helmet •  Robin hood hat •  Deerstalker •  Top hat •  Monocle •  Leprechaun hat •  Black leprechaun hat •  Cyclops head •  Afro •  Big pirate hat •  Fancy tiara •  Sagacious spectacles •  Blacksmith's helm •  Bucket helm •  Bucket helm (g) •  Half moon spectacles •  Bowl wig •  Left eye patch

Animal masks

 Imp •  Goblin •  Cat •  Penguin •  Black unicorn •  White unicorn

Dragon masks

 Green •  Blue •  Red •  Black •  Bronze •  Iron •  Steel •  Mithril •  Lava

Demon masks

Berets

Boaters
Cavaliers
Headbands

Bob the Cat shirts
Capes

 Team cape i •  Team cape x •  Team cape zero •  Explorer backpack •  Obsidian cape (r) •  3rd age cloak

Elegant clothing

| | |
| --- | --- |
| Black/White | |
| Blue | |
| Green | |
| Purple | |
| Red | |
| Gold | |
| Pink | |

Ornament kits

| | |
| --- | --- |
| Dragon equipment |  Full helm •  Chainbody •  Platebody •  Platelegs/skirt •  Sq shield •  Kiteshield •  Scimitar •  Defender •  Boots |
| Godswords | |
| Other |  Light infinity •  Dark infinity •  Amulet of fury •  Occult necklace •  Amulet of torture •  Necklace of anguish |

Teleport scrolls

 Master scroll book •  Digsite •  Elf camp •  Feldip hills •  Lumberyard •  Lunar isle •  Mort'ton •  Mos le'harmless •  Nardah •  Pest control •  Piscatoris •  Tai bwo wannai

God blessing
Gnomish firelighters

Miscellaneous

| | |
| --- | --- |
| Unlocks |  Large spade •  Clueless scroll • Uri transform •  Heavy casket |
| Outfits |  Crier outfit •  Musketeer outfit •  Royal outfit •  Dark tuxedo outfit •  Light tuxedo outfit •  Mummy outfit •  Ankou outfit |
| Consumables | |
| Emote enhancers |  Sleeping cap •  A powdered wig •  Pantaloons •  Flared trousers |
| Other |  Golden apron •  Wooden shield (g) •  Cabbage round shield •  Briefcase •  Ring of nature •  Ring of coins •  Bloodhound •  Ale of the gods |