The Night beast is a superior variant of the dark beast. It has a chance of spawning once after purchasing the unlock Bigger and Badder for 150 Slayer reward points from any Slayer master.
The night beast has a special attack where it will attack with magic for three attacks. It launches fire projectiles covering a 3x3 area which deals damage depending on your current hp, therefore it is best to stay low hp and keep praying protect from melee. This attack can be avoided by simply moving away from the targeted area. When the night beast uses this special attack, it will so 3 times in a row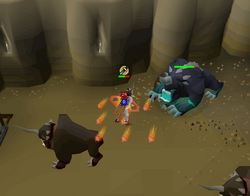 Night beasts give 3 rolls on their regular counterpart's drop table.
100% drop
Edit
There is a 1 in 31.8 chance of rolling the unique drop table.
Materials
Edit
↑ 1.0 1.1 1.2 1.3 Only dropped by those found within the Catacombs of Kourend.
Rare drop table
In addition to the drops above, this monster also has access to the rare drop table.
Slayer Tower

 Crawling Hand •  Banshee •  Infernal Mage •  Bloodveld •  Aberrant spectre •  Gargoyle (Boss • Dusk • Dawn) •  Nechryael •  Abyssal demon (Boss)

Fremennik Slayer Dungeon

 Cave crawler •  Rockslug •  Cockatrice •  Pyrefiend •  Basilisk •  Jelly •  Turoth •  Kurask

Lumbridge Swamp Caves
God Wars Dungeon (Wilderness)

 Pyrefiend •  Bloodveld •  Spiritual ranger •  Spiritual warrior •  Spiritual mage

Stronghold Slayer Cave
Catacombs of Kourend

 Twisted Banshee •  Warped Jelly •  Mutated Bloodveld •  Deviant spectre •  Brutal black dragon •  Greater Nechryael •  Abyssal demon •  Dark beast

Wyvern Cave

 Long-tailed Wyvern •  Spitting Wyvern •  Taloned Wyvern •  Ancient Wyvern

Others

 Desert Lizard •  Mogre •  Harpie Bug Swarm •  Killerwatt •  Molanisk •  Terror dog •  Sea snake (Young) (Hatchling) •  Brine rat •  Fever spider •  Mutated Zygomite (Ancient) •  Cave horror •  Dust devil •  Skeletal Wyvern •  Cave kraken (Boss) •  Dark beast •  Cerberus •  Smoke devil (Boss)

| | |
| --- | --- |
| Superior monsters |  Crushing Hand •  Chasm Crawler •  Screaming banshee •  Giant rockslug •  Cockathrice •  Flaming pyrelord •  Monstrous basilisk  Malevolent Mage •  Insatiable Bloodveld (Mutated) •  Vitreous Jelly •  Cave abomination •  Abhorrent spectre (Repugnant) •  Choke devil •  King kurask •  Marble gargoyle •  Nechryarch •  Greater abyssal demon •  Night beast •  Nuclear smoke devil |
Ad blocker interference detected!
Wikia is a free-to-use site that makes money from advertising. We have a modified experience for viewers using ad blockers

Wikia is not accessible if you've made further modifications. Remove the custom ad blocker rule(s) and the page will load as expected.