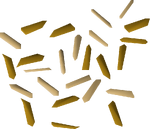 Odd bird seed is a quest item used in the Eagles' Peak quest. It is found inside some caves under Eagles Peak mountain and is used to navigate a small maze containing statues of eagles. Placing the bird seed at the appropriate locations will cause the statues to move, allowing the player to access different parts of the maze.
At the end of the maze the player obtains a golden feather which, along with a bronze feather and a silver feather, obtained earlier in the quest, is used to open a locked door that leads deeper into the caves.
NPCs

Charlie • Nickolaus • Kebbit • Ferret

Items

 Bird book •  Metal feather •  Feathered journal •  Eagle feather •  Eagle cape •  Fake beak •  Bronze feather •  Silver feather •  Golden feather •  Odd bird seed

Locations

Music

Related
Ad blocker interference detected!
Wikia is a free-to-use site that makes money from advertising. We have a modified experience for viewers using ad blockers

Wikia is not accessible if you've made further modifications. Remove the custom ad blocker rule(s) and the page will load as expected.