Odysseus was the panther companion of the Fourth Age hero Robert the Strong. He was killed by a Dragonkin whilst fighting alongside Robert, which is shown in a flashback during A Tail of Two Cats.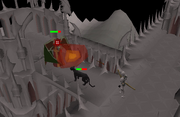 Odysseus is the name of a mythological Greek hero who appears in the epic poems, the Illiad and the Odyssey, both written by the blind Greek poet, Homer.
Characters

Apothecary • Bob • Gertrude • Neite • Reldo • Sphinx • Unferth • King Black Dragon • Robert the Strong • Hild • Dragonkin • Odysseus • R4ng3rNo0b889

Items

 Catspeak amulet (e) •  Chores •  Nurse hat •  Doctors hat •  Recipe

Rewards

Locations

Music

Miscellaneous
Ad blocker interference detected!
Wikia is a free-to-use site that makes money from advertising. We have a modified experience for viewers using ad blockers

Wikia is not accessible if you've made further modifications. Remove the custom ad blocker rule(s) and the page will load as expected.