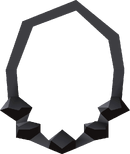 The Onyx necklace is made by using a gold bar, an onyx and a necklace mould on a furnace. It requires a crafting level of 82 and provides 120 experience when made.
Grum's Gold Exchange in Port Sarim doesn't buy or sell Onyx rings, necklaces, or amulets.
The onyx necklace can be enchanted into a berserker necklace by members with the Lvl-6 Enchant spell . This requires level 87 Magic, one cosmic rune, twenty earth runes and 20 fire runes.
Bonuses
Hover over image for type

A player wearing an onyx necklace.
 Attack bonus
+0
+0
+0
+0
+0
 Defence bonus
+0
+0
+0
+0
+0
Other bonuses
Slot

list

+0
0
0%
+0
The Gold bar used to make this seems to have been coloured exactly the same colour as the Onyx itself.
The Onyx necklace looks similar to the Beads of the dead obtained during the Shilo Village quest.
Crafted

 Gold •  Opal •  Sapphire •  Jade •  Emerald •  Topaz •  Ruby •  Diamond  Dragonstone •  Onyx •  Zenyte

Enchanted

 Dodgy •  Games •  Passage •  Binding •  Faith •  Digsite •  Phoenix •  Skills •  Berserker •  Anguish

Other

 Brass •  Clean •  Occult (or) •  'perfect' •  Silver •  Stolen family heirloom
Ad blocker interference detected!
Wikia is a free-to-use site that makes money from advertising. We have a modified experience for viewers using ad blockers

Wikia is not accessible if you've made further modifications. Remove the custom ad blocker rule(s) and the page will load as expected.