The orange salamander is the third strongest salamander weapon. Once the Hunter creature is caught using the Hunter skill, they become weapons. The Orange salamander requires level 50 Ranged, 50 Attack, and 50 Magic to wield and is a two-handed weapon. Marrentill tar is used as ammunition for the salamander.
Despite being able to perform Magic and Ranged attacks, this weapon requires the user to be in the opponent's melee distance to attack, potentially reducing the practicality of the two attack styles.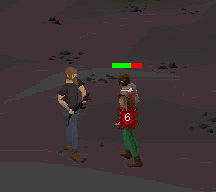 They require 47 Hunter to catch, and give 224 Hunter xp when caught. A small fishing net and a rope is used to set up the traps that catch salamanders. They are caught in the desert.
Note that the orange salamander is not retrievable if a player dies. This is because it is a live creature and it will simply run away once released.
Bonuses
Hover over image for type

Player wielding orange salamander.
 Attack bonus
+0
+19
+0
+0
+29
 Defence bonus
+0
+0
+0
+0
+0
Other bonuses
Slot

list

+31
+0
0%
+0
Combat Styles
Edit
Magic max hit
Edit
The orange salamander has a magic strength bonus of 59. The max hit in magic mode can be calculated using the following formula, where "Magic" is your visible magic level:
Max hit = floor(0.5 + Magic*123/640)

Creature

Swamp lizard • Orange salamander • Red salamander • Black salamander

Weapon

 Swamp lizard •  Orange salamander •  Red salamander •  Black salamander

Tar ammuntion

 Guam •  Marrentill •  Tarromin •  Harralander
Ad blocker interference detected!
Wikia is a free-to-use site that makes money from advertising. We have a modified experience for viewers using ad blockers

Wikia is not accessible if you've made further modifications. Remove the custom ad blocker rule(s) and the page will load as expected.