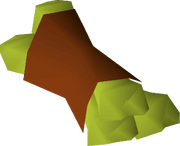 Ourg bones are used to train the Prayer skill. They give 140 Prayer experience when buried, 490 prayer experience when used on a gilded altar with both incense burners lit, and 560 prayer experience when used with the Ectofuntus.
Important: For most players they will first be obtained from Slash Bash. Many players may assume by not completing the quest, they could farm these, however, upon dropping the Ogre Artefact, they can obtain another one from the stand, and the boss will never respawn.
Ourg bones can be obtained by either stealing them from Ogre coffins via the Thieving skill or using keys dropped by Zogres and Skogres on nearby chests.
While training, multiple dragon bones can be bought for the price of one Ourg bone. Just two dragon bones gives 144 experience, which is 4 more experience than a single Ourg bone. If inventory space is an issue, Ourg bones may be a more suitable choice, especially if using on a house altar or the Ectofuntus.
Standard bones
Draconic bones

 Baby dragon •  Dragon •  Wyvern •  Lava dragon

Monkey bones

 Karamjan •  Small zombie •  Big zombie •  Gorilla •  Bearded gorilla •  Small ninja •  Medium ninja •  Skeleton gorilla

Ogre bones

 Jogre (Burnt) (Pasty) (Marinated) •  Zogre •  Fayrg •  Raurg •  Ourg

Enriched bones

Special bones

 Curved •  Long •  Chewed •  Mangled •  Shaikahan •  Sheep (1) (2) (3) (4)
Ad blocker interference detected!
Wikia is a free-to-use site that makes money from advertising. We have a modified experience for viewers using ad blockers

Wikia is not accessible if you've made further modifications. Remove the custom ad blocker rule(s) and the page will load as expected.