Outlaws are monsters featured in the What Lies Below quest, during which they have to be killed in order to obtain five Rat's papers that are used to create the full folder. Outlaws are found in their encampment near the fairy ring west of the Grand Exchange and north of the shed, which leads into the Edgeville Dungeon. Like highwaymen, they will shout "Stand and deliver!" They appear to be wielding a steel scimitar with a recolored handle.
Note: Outlaws are not recommended for training Combat on as they only provide ¼th of the amount of experience that regular monsters would.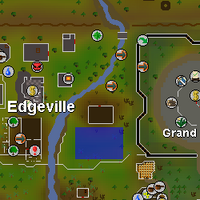 ↑ Only dropped during What Lies Below.
Ad blocker interference detected!
Wikia is a free-to-use site that makes money from advertising. We have a modified experience for viewers using ad blockers

Wikia is not accessible if you've made further modifications. Remove the custom ad blocker rule(s) and the page will load as expected.