Outlaws are monsters featured in the What Lies Below quest, during which they have to be killed in order to obtain five Rat's papers that are used to create the full folder. Outlaws are found in their encampment near the fairy ring west of the Grand Exchange and north of the shed, which leads into the Edgeville Dungeon. Like highwaymen, they will shout "Stand and deliver!" They appear to be wielding a steel scimitar with a recoloured handle.
Note: Outlaws are not recommended for training Combat on as they only provide ¼th of the amount of experience that regular monsters would.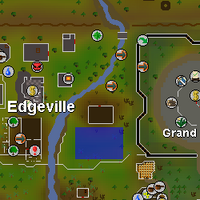 Drops
100%
↑ Only dropped during What Lies Below.
Herbs
Runes
Other
NPCs

Rat Burgiss • Surok Magis • Anna Jones • Zaff

Enemies

King Roald • Outlaw

Items

 An empty folder •  Used folder •  Full folder •  Rat's paper •  Letter to surok •  Surok's letter •  Wand •  Infused wand •  Sin'keth's diary •  Dagon'hai history •  Beacon ring •  Zaff's instructions

Locations

Music

Related