Palm tree seed
Release date
6 June 2005 (Update)
Farming level
68
Exchange price

71,484

coins (info)
Patch
Fruit tree
Time
960 min (6x160 min)
Planting XP
110.5
Check-health XP
10150.1
Harvesting XP
41.5
Payment
15 Papayas
Tradeable?
Yes
High alch
152 coins
Low alch
101 coins
Store price
Not sold
Examine
Plant in a plantpot of soil to grow a sapling.
[view] • [talk]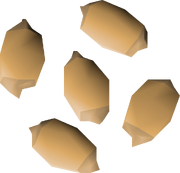 Palm tree seeds are the highest level fruit tree patch seeds. At 68+ Farming, a palm tree seed can be planted in a plant pot to make a palm seedling, which grows into a palm sapling; the sapling can be planted in a fruit tree patch to be grown into a palm tree. Palm trees, when fully grown, bear coconuts.
A nearby gardener will watch over your growing palm tree at the cost of 15 papaya fruits.
Planting a palm sapling in a fruit tree patch gives 110.5 Farming experience, checking the health of a palm tree gives 10150.1 Farming experience, and harvesting the six coconuts gives 249 Farming experience total. This comes out to 10509.6 total experience per seed, unless the tree dies, in which case only the 110.5 experience for planting is gained.
Palm trees, like all fruit trees, ideally take six 160-minute farming cycles to fully grow, but certain factors can delay this. Palm trees are usually fully grown within 24 hours, however.
Palm tree seeds may be found rarely in a bird nest, which can be obtained randomly while Woodcutting or from Managing Miscellania. Another way to obtain palm tree seeds is via Barbarian Assault High Level Gambles.
Dropping monsters
Edit
Allotment

 Potato •  Onion •  Cabbage •  Tomato •  Sweetcorn •  Strawberry •  Watermelon

Flower

 Marigold •  Rosemary •  Nasturtium •  Woad •  Limpwurt

Herb

 Guam  Marrentill •  Tarromin •  Harralander •  Gout tuber •  Ranarr •  Toadflax •  Irit •  Avantoe •  Kwuarm •  Snapdragon •  Cadantine •  Lantadyme •  Dwarf weed •  Torstol

Hop

 Barley •  Hammerstone •  Asgarnian •  Jute •  Yanillian •  Krandorian •  Wildblood

Bush

 Redberry •  Cadavaberry •  Dwellberry •  Jangerberry •  Whiteberry •  Poison ivy

Tree
Fruit tree

 Apple tree •  Banana tree •  Orange tree •  Curry tree •  Pineapple •  Papaya tree •  Palm tree

Special seeds

 Seaweed •  Teak •  Grape •  Mushroom •  Mahogany •  Cactus •  Belladonna •  Calquat •  Spirit

Other seeds

 Blindweed •  Crystal (small) •  Grass •  Hardy gout tuber •  Hardy gout tubers •  Kelda •  Pine tree •  White pearl

| | |
| --- | --- |
| Tithe Farm seeds | |
| Chambers of Xeric | |
| Garden of Tranquillity |  Delphinium •  Pink orchid •  Pink rose •  Red rose •  Snowdrop •  Vine •  White rose •  Yellow orchid |