For a list of all items and upgrades within the Construction skill, see Construction/All milestones.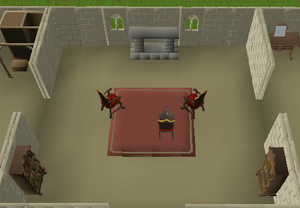 The Parlour in a Player-owned house is one of the only two types of rooms a player can build starting at Level 1 Construction skill. Building a parlour costs 1,000 Coins.
There are 6 Hotspots available:
(x3) Chairs
Rug
Curtains
Fireplace
Bookshelves
Exits
Fireplace
Edit
Curtains
Edit
Bookcase
Edit

 Garden •

 Parlour •

 Kitchen •

 Dining Room •

 Workshop •

 Bedroom •

 Skill Hall •

 Games room •

 Combat Room •
 Quest Hall •

 Menagerie •

 Study •

 Costume Room •

 Chapel •

 Portal Chamber •

 Formal Garden •

 Throne Room •

 Oubliette •

 Superior Garden •

 Dungeon •

 Treasure Room •
 Achievement Gallery
Ad blocker interference detected!
Wikia is a free-to-use site that makes money from advertising. We have a modified experience for viewers using ad blockers

Wikia is not accessible if you've made further modifications. Remove the custom ad blocker rule(s) and the page will load as expected.