Pearl dragon bolts
Release date
4 January 2018 (Update)
Members only?
Yes
Quest item?
No
Tradeable?
Yes
Equipable?
Yes
Stackable?
Yes
High Alch
390 coins
Low Alch
260 coins
Destroy
Drop
Store price
Not sold
Exchange price

1,250

coins (info)
Buy limit
Unknown
Weight
0 kg
Examine
Dragon crossbow bolts, tipped with pearl.
[view]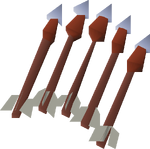 Pearl dragon bolts are dragon bolts with pearl bolt tips attached to them. They are to be enchanted via the Enchant Crossbow Bolt (Pearl) spell by a player with level 24 Magic.
The spell enchants 10 bolts per cast, and uses 1 cosmic and 2 water runes. This creates enchanted pearl dragon bolts, which are a superior, tradeable version of enchanted pearl bolts.
Bonuses
Hover over image for type
 Attack bonus
+0
+0
+0
+0
+0
 Defence bonus
+0
+0
+0
+0
+0
Other bonuses
Slot

list

+0
+122
+0%
+0
Metal bolts

 Bronze (unf) •  Blurite (unf) •  Silver (unf) •  Iron (unf) •  Steel (unf) •  Mithril (unf) •  Adamant (unf) •  Runite (unf) •  Dragon (unf)

Bolt tips

 Opal •  Jade •  Pearl •  Topaz •  Sapphire •  Emerald •  Ruby •  Diamond •  Amethyst •  Dragonstone •  Onyx

Gem-tipped bolts

 Opal (e) •  Jade (e) •  Pearl (e) •  Topaz (e) •  Sapphire (e) •  Emerald (e) •  Ruby (e) •  Diamond (e) •  Dragonstone (e) •  Onyx (e)

Dragon gem-tipped bolts

 Opal (e) •  Jade (e) •  Pearl (e) •  Topaz (e) •  Sapphire (e) •  Emerald (e) •  Ruby (e) •  Diamond (e) •  Dragonstone (e) •  Onyx (e)

Other bolts

 Enchanted •  Barbed •  Bone •  Mith grapple (unf) (tip) •  Bolt rack •  Kebbit •  Long kebbit •  Broad (unf) •  Amethyst