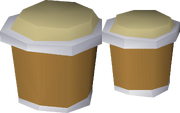 Penguin bongos are a quest item made and used in the Cold War quest.
They are made by using a mahogany plank with soft leather. During the quest, they are given to the penguin Ping. Afterward, it is possible to make them again, and play them while dressed as a penguin.
Game-related

List of music tracks

List of boss music • List of all music tracks • List of music in chronological order • Unlisted music tracks

Musical instruments

 Bells • Church organ •  Cowbells •  Enchanted lyre •  Organ •  Penguin bongos •  Slayer bell •  Snake charm •  Windchimes

Items with sound

Emotes with sound

Beckon • Idea • Stamp • Skillcape • Air Guitar
Characters

Larry • Ping • Pong • Noodle • Penguin • Sheep • Agility Instructor • Army Commander • Fred the Farmer • KGP Agent • Pescaling Pax

Items

 KGP ID Card •  Clockwork book •  Clockwork suit •  Cowbells •  Penguin bongos

Rewards

Music

Locations

Related
Ad blocker interference detected!
Wikia is a free-to-use site that makes money from advertising. We have a modified experience for viewers using ad blockers

Wikia is not accessible if you've made further modifications. Remove the custom ad blocker rule(s) and the page will load as expected.