A pet rock can be obtained from Askeladden during and after The Fremennik Trials quest. After the quest multiple pet rocks can be obtained by talking to him again.
In the quest it is used to make Lalli give you some golden wool, You must use a Pet rock, cabbage, onion, and a potato are the ingredients to make rock soup, to please him.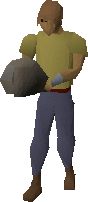 A pet rock can be used to substitute a player while attempting to open the two-man doors in the Waterbirth Island Dungeon. You will still need another player to destroy the barrier on the other side, although a rune thrownaxe can do this instead.
Unlike most pets, the pet rock will not follow you if you drop it, possibly due to the rock's shy nature. However, the pet rock will happily perch in your arms in your weapon slot, like a two-handed weapon, except it doesn't confer any stat bonuses or penalties.
Rocks can usually find their own food, and don't often need attention, so rocks are a good choice for a pet.
When wielding the pet rock, it acts like a members weapon in a free world; it is equipped, but you still fight unarmed. The pet rock is just for show and humour.
You try and feed the rock.
Your rock doesn't seem hungry.
You stroke your pet rock.
Your rock seems much happier.
"Who's a good rock then? Yes you are... You're such a good rock... ooga booga googa."
Your rock seems a little happier.
Want to fetch the stick, rock? Of course you do...
(Player puts the rock down and throws a stick which lands anywhere but forward. The rock will not move anywhere, because rocks naturally don't enjoy playing fetch. Player shrugs and picks the rock back up.)
"Be a good rock..."
(Player sets the rock down, and stand up for a few seconds. Then the player picks the rock up, and pets it.)
Boss pets

 Baby mole •  Dark energy core (Corporeal Critter) •  Jal-Nib-Rek (TzRek-Zuk) •  Kalphite princess •  Olmlet •  Skotos •  Snakeling •  TzRek-Jad •  Vorki

| | |
| --- | --- |
| Wilderness bosses |  Callisto cub •  Chaos Elemental •  Prince black dragon •  Scorpia's offspring •  Venenatis spiderling •  Vet'ion jr. |
| Dagannoth Kings | |
| God Wars Dungeon |  Commander Zilyana •  General Graardor •  Kree'arra •  K'ril Tsutsaroth |
| Slayer |  Abyssal orphan •  Hellpuppy •  Noon (Midnight) •  Kraken •  Smoke devil |

Skilling pets

 Baby chinchompa •  Beaver •  Giant squirrel •  Heron •  Rift guardian •  Rock golem •  Rocky •  Tangleroot

Other pets

 Bloodhound •  Cat (Wily cat) (Hellcat) •  Chompy chick •  Fish •  Herbi •  Penance Queen •  Phoenix •  Rock •  Toy cat