Pieces of eight
Also known as?
PoE
Tradeable?
No
Approximate value
Unknown edit
Examine
Piratical currency.
[view] • [talk]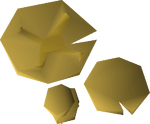 Pieces of eight are used as a reward currency from the Trouble Brewing minigame. A player can receive up to 100 pieces each game from just resources. Each resource deposited (i.e. buckets of water, bowls of coloured water, etc.) counts as 1 Piece of Eight at the end of the game. Each rum deposited for your team counts as 2 extra pieces for each person on your team at the end of the game.
Contrary to popular belief, the amount received at the end of a game is not dependant on who is winning. The score is more for keeping track of how many rather than who has the most, but it may still be used as such.
The amount of pieces it takes to complete a full outfit in Old School Runescape takes approximately 8 hours to achieve, as the average amount gained is 100+ and each match is 25 minutes long.
Tradeable

 Coins•  Archery tickets •  Numulites •  Platinum tokens •  Survival tokens •  Trading sticks

Untradeable

 Agility arena tickets •  Blood money •  Castle wars tickets •  Ecto-tokens •  Frog tokens •  Golden nuggets •  Glistening tears •  Marks of grace •  Mermaid's tears •  Paramaya tickets •  Pieces of eight •  Reward token •  Tokkul •  Unidentified minerals •  Warrior guild tokens

Virtual

Bounty Hunter points • Honour points • Nightmare Zone reward points • Pizazz points • Slayer reward points • Void Knight commendation points
NPCs

Honest Jimmy • San Fan • Fancy Dan • Parrots

Gameplay items

 Blue flowers •  Red flowers •  Bowl of blue water •  Bowl of red water •  Monkey •  Blue monkey •  Red monkey •  Bitternut •  logs •  Bucket •  Bucket of water •  Raw rat meat •  Sweetgrubs •  Scrapey tree logs •  Scrapey bark •  Torch •  Pipe section •  Lumber patch •  Bridge section

Rewards

 Pieces of eight

Flags

 Cutthroat flag •  Guilded smile flag •  Bronze fist flag •  Lucky shot flag •  Treasure flag •  Phasmatys flag

Naval clothing

Miscellaneous

Other