| | |
| --- | --- |
| Start point | Talk to Edmond, living next to the wall surrounding East Ardougne, north of the castle. |
| Official difficulty | Novice |
| Description | The western part of Ardougne has been shut off as a deadly plague sweeps through the people. However, a young woman who went in to try to help those stricken by the illness has disappeared and her parents have become worried. |
| Length | Short-Medium |
| Requirements | None |
| Items required | |
| Enemies to defeat | None |
Walkthrough
Edit
Starting the quest
Edit
Bring all items with you.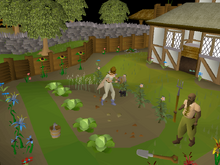 Travel to the southern pipe.
Attempt to open the grill.
Use a rope on the pipe.
Speak to Edmond.
Put on the gas mask and climb up the pipe.
Finding Elena
Edit
Go north and a little west to the house against the wall (the building made from timber).
Mention you have the book.
Speak to Martha.
Go upstairs and speak to Milli.
Go south of the town square to the large building with an "X" on the doors (there's a staircase going down inside the building). Attempt to open the door.
Talk to the Mourners (Chat 1-2)
Getting inside
Edit
Go to the large building north of the manhole in the town square.
Talk to the clerk (Chat 2-1)
Finishing up
Edit
Quest complete!
Required for completing
Edit
Completion of Plague City is required for the following:
Ad blocker interference detected!
Wikia is a free-to-use site that makes money from advertising. We have a modified experience for viewers using ad blockers

Wikia is not accessible if you've made further modifications. Remove the custom ad blocker rule(s) and the page will load as expected.