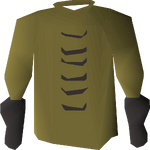 The plague jacket is half of the hazard suit set, the other half being the plague trousers. The plague jacket is used when moving sheep into the pen during the Sheep Herder quest. The plague jacket and trousers are both obtained during the quest by paying Doctor Orbon 100 coins and cannot be obtained again once the quest has been completed. It is identical to a Mourner top, except that it has built-in gloves.
Bonuses
Hover over image for type

A player wearing the plague jacket.
 Attack bonus
+0
+0
+0
+0
+0
 Defence bonus
+0
+0
+0
+0
+0
Other bonuses
Slot

list

+0
0
0%
+0
Characters

Items

Reward

 Coins

Locations

Music

Related
Ad blocker interference detected!
Wikia is a free-to-use site that makes money from advertising. We have a modified experience for viewers using ad blockers

Wikia is not accessible if you've made further modifications. Remove the custom ad blocker rule(s) and the page will load as expected.