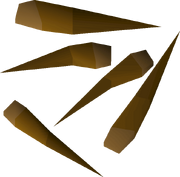 A Proboscis (plural proboscises or proboscides) is an item dropped by mosquitos. It is used, alongside a fungicide spray, to inject sulliuscep mushrooms in the Tar Swamp, causing them to die and respawn in another location. This is most often done when the sulliuscep is found in a location where the player is exposed to Tar Monsters or the Deranged archaeologist.
It is also one of the randomly selected items that the player must take to Filliman Tarlock in order to make the magic secateurs used in Fairytale I - Growing Pains.
Dropping monsters
Edit
Proboscises used to have a different examine: "A giant mosquito's proboscis: aerodynamic, sharp and not very useful!" It was changed to what it is after the release of Fossil Island.
Ad blocker interference detected!
Wikia is a free-to-use site that makes money from advertising. We have a modified experience for viewers using ad blockers

Wikia is not accessible if you've made further modifications. Remove the custom ad blocker rule(s) and the page will load as expected.