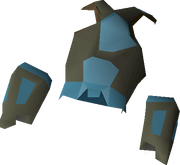 The Prospector jacket is a reward from the Motherlode Mine. It can be purchased in exchange for 60 Golden nuggets. The jacket gives a Mining experience boost of 0.8%.
Alternatively, a player can use the Varrock armour 4 from the Varrock Diary task set to receive the experience bonus.
Bonuses
Hover over image for type

A player wearing the prospector jacket.
 Attack bonus
+0
+0
+0
+0
+0
 Defence bonus
+0
+0
+0
+0
+0
Other bonuses
Slot

list

+0
0
0%
+0
Woodcutting

Lumberjack outfit •  Hat •  Top •  Legs •  boots

Mining

Prospector kit •  Helmet •  Jacket •  Legs •  Boots

Fishing

Angler's outfit •  Hat •  Top •  Waders •  Boots

Farming

Farmer's outfit •  Strawhat •  Jacket (Shirt) •  Boro trousers •  Boots

Firemaking

Pyromancer outfit •  Hood •  Garb •  Robe •  Boots
Ad blocker interference detected!
Wikia is a free-to-use site that makes money from advertising. We have a modified experience for viewers using ad blockers

Wikia is not accessible if you've made further modifications. Remove the custom ad blocker rule(s) and the page will load as expected.