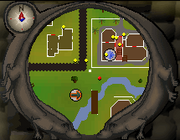 Purple dye is a dye made by combining blue dye and red dye, both of which may be made by Aggie in Draynor Village. It is used for colouring capes, granting 2.5 Crafting experience in the process, and for dying orange slices during Recipe for Disaster.
It respawns to the north of the battlefield, near the spirit tree, south of East Ardougne. It can also be bought at Lletya Seamstress in Lletya. In order to access this shop, one must have at least started the Mourning's Ends Part I quest.
Ad blocker interference detected!
Wikia is a free-to-use site that makes money from advertising. We have a modified experience for viewers using ad blockers

Wikia is not accessible if you've made further modifications. Remove the custom ad blocker rule(s) and the page will load as expected.