This article is about the slayer monster. For the superior variant, see
Flaming pyrelord
.

Pyrefiends are a Slayer monster that require level 30 Slayer to kill. As their attacks are magic based, it is recommended to wear armour with a high magic defence bonus, such as dragonhide. Pyrefiends and Harpie bug swarms are the only enemies to drop steel boots.
Strength and Weakness
Edit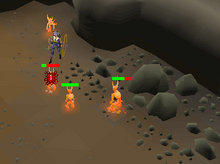 The Pyrefiend's attack accuracy is based on your magic defence, so it is highly recommended that you wear dragonhides or other ranged armour to mitigate damage. Due to their low magic defence, they are highly susceptible to Magic attacks.
Players who intend to use melee and have 43 Prayer can flick the Protect from Melee prayer to avoid being damaged. An alternative method would be to use a safespot with a halberd or using Ranged attacks. Players should be aware that although their max hit is relatively low for their combat level, they can hit very consistently. 
Locations
Edit
Assigned by
Edit
Armour/Weapons
Edit
Ores/Bars
Edit
↑ Only dropped by those found in the Wilderness.
↑ Only dropped by those located in the Wilderness God Wars Dungeon. Drop rate decreases to 1/70 if one key is owned, and 1/80 if two are owned. If the medium or hard Wilderness Diary is completed the drop rate of 1/60 still applies until a player owns two or three keys, respectively.
↑ Twice as common if a Ring of wealth (i) is worn and fought in the Wilderness.
Gem drop table
In addition to the drops above, this monster has access to the
gem drop table
.
Slayer Tower

 Crawling Hand •  Banshee •  Infernal Mage •  Bloodveld •  Aberrant spectre •  Gargoyle (Boss • Dusk • Dawn) •  Nechryael •  Abyssal demon (Boss)

Fremennik Slayer Dungeon

 Cave crawler •  Rockslug •  Cockatrice •  Pyrefiend •  Basilisk •  Jelly •  Turoth •  Kurask

Lumbridge Swamp Caves
God Wars Dungeon (Wilderness)

 Pyrefiend •  Bloodveld •  Spiritual ranger •  Spiritual warrior •  Spiritual mage

Stronghold Slayer Cave
Catacombs of Kourend

 Twisted Banshee •  Warped Jelly •  Mutated Bloodveld •  Deviant spectre •  Brutal black dragon •  Greater Nechryael •  Abyssal demon •  Dark beast

Wyvern Cave

 Long-tailed Wyvern •  Spitting Wyvern •  Taloned Wyvern •  Ancient Wyvern

Others

 Desert Lizard •  Mogre •  Harpie Bug Swarm •  Killerwatt •  Molanisk •  Terror dog •  Sea snake (Young) (Hatchling) •  Brine rat •  Fever spider •  Mutated Zygomite (Ancient) •  Cave horror •  Dust devil •  Skeletal Wyvern •  Cave kraken (Boss) •  Dark beast •  Cerberus •  Smoke devil (Boss)

| | |
| --- | --- |
| Superior monsters |  Crushing hand •  Chasm Crawler •  Screaming banshee (Twisted) •  Giant rockslug •  Cockathrice •  Flaming pyrelord •  Monstrous basilisk •  Malevolent Mage •  Insatiable Bloodveld (Mutated) •  Vitreous Jelly (Warped) •  Cave abomination •  Abhorrent spectre (Repugnant) •  Choke devil •  King kurask •  Marble gargoyle •  Nechryarch •  Greater abyssal demon •  Night beast •  Nuclear smoke devil |