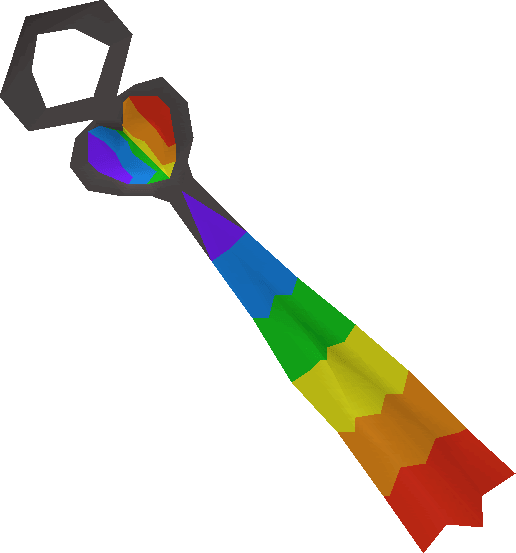 A rainbow scarf is the reward the player receives from Gilbert for completing the Pride event. It resembles a stole and is worn in the neck slot. It can be purchased from Diango's Toy Store.
Bonuses
Hover over image for type
 Attack bonus
+0
+0
+0
+0
+0
 Defence bonus
+0
+0
+0
+0
+0
Other bonuses
Slot

list

+0
0
0%
+0
Despite the update newspost stating that the scarf will be purchasable from Diango's Toy Store after the pride event is over, it remained unavailable from the store until an update on 23 November 2017.
Characters

Gilbert

Rainbow strands

Rewards

 Rainbow scarf
Birthday

 War ship •  Gnome child hat •  4th birthday hat •  Birthday balloons •  Prop sword

Easter

 Easter egg •  Easter egg helm •  Rubber chicken •  Easter ring •  Easter basket

Midsummer

 Disk of returning •  Half full wine jug •  Druidic wreath •  Mask of balance •  Hornwood helm •  Hand fan

Hallowe'en

 Pumpkin •  Scythe •  Zombie head •  Jack lantern mask •  Grim reaper hood •  Anti-panties •  Hunting knife •  Jonas mask

Christmas

 Christmas cracker •  Yo-yo •  Wintumber tree •  Reindeer hat •  Snow globe •  Sack of presents •  Giant present

Partyhats

 Yellow •  Green •  Red •  White •  Purple •  Blue •  Black •  Rainbow

Santa hats

 Regular •  Black •  Inverted •  Wise Old Man's

Marionettes

Santa outfit

 Mask •  Jacket •  Pantaloons •  Gloves •  Boots

Antisanta outfit

 Mask •  Jacket •  Pantaloons •  Gloves •  Boots

Snow imp costume

Hats and Scarves

| | |
| --- | --- |
| Hats |  Bobble •  Jester •  Tri-jester •  Woolly |
| Scarves |  Bobble •  Jester •  Tri-jester •  Woolly |

Miscellaneous

 Cabbage cape •  Cruciferous codex •  Rainbow scarf •  Runefest shield

| | |
| --- | --- |
| Cat toys |  Tiger •  Lion •  Snow leopard •  Amur leopard |
| Clue hunter outfit | |