Details
Start point
The Cook in Lumbridge Castle's kitchen.
Official difficulty
Special
Description
The cook in Lumbridge has a surprisingly small number of ingredients to hand in his kitchen, possibly as a result of an endless stream of newcomers with light fingers taking anything that isn't nailed down from his kitchen.

Luckily, in the past a kind Cook's Assistant was willing to help him in his culinary duties, but now a problem has appeared that could spell... a Recipe For Disaster!

Almost all members may attempt to solve his tricky predicament, and be rewarded accordingly, but only the very elite of Questers will be able to put an end to his problem permanently!

Length
Short
Requirements
Items required
Enemies to defeat
None
Walkthrough
The Cook
Items required: An eye of newt, a greenman's ale, a rotten tomato, ashes, and a fruit blast.

The Cook will tell you that he needs a newt's eye, a Greenman's ale, a rotten tomato, and a dirty blast in order to prepare for the centennial feast. If you ask him how to make a dirty blast, he will tell you to add ashes to a fruit blast. He will give you 100 coins to buy everything, and he will allow you to keep the change.
Gathering the ingredients
You can buy an eye of newt from herblore shops. Greenman's ale is sold in Yanille. You can buy a rotten tomato at the Duel Arena or from the crates near the pillory cages in Varrock, Seers' Village, or Yanille. You can make a fruit blast at the Gnome Stronghold in the cocktail bar (Blurberry will give you a cocktail book on how to make them). It is possible to buy one on the Grand Exchange, as long as it isn't Premade. Use the ashes on the fruit blast to get a dirty blast.
Once you have all 4 items, give them to the Cook.
Congratulations! Quest complete! (for now...)
Rewards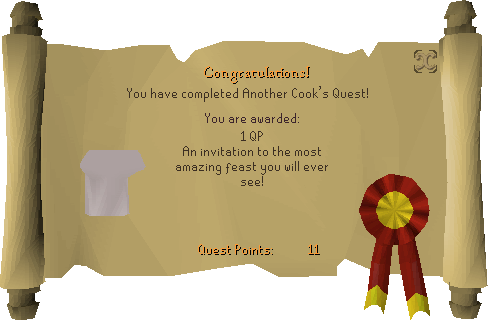 The invitation to the feast of a lifetime!
Access to the Culinaromancer's Chest
Subquest of Recipe for Disaster

NPCs

Cook • Franizzard Van Lumbcook • Mysterious Old Man • Evil Bob• Blurberry • Culinaromancer

Lumbridge Secret Council

x35pxMountain Dwarf • Osman • Gypsy Aris • General Wartface • General Bentnoze • Pirate Pete • Lumbridge Guide • Evil Dave • x35pxSkrach Uglogwee • Sir Amik Varze • Awowogei • Duke Horacio

Items

 Dirty blast

Locations

Music
Subquests

Another Cook's Quest • Freeing the Goblin generals • Freeing the Mountain dwarf • Freeing Evil Dave • Freeing the Lumbridge Guide • Freeing Pirate Pete • Freeing Skrach Uglogwee • Freeing Sir Amik Varze • Freeing King Awowogei

Monsters

Agrith-Na-Na • Flambeed • Karamel • Dessourt • Gelatinnoth Mother • Culinaromancer

Rewards

 Antique lamp

Related
Ad blocker interference detected!
Wikia is a free-to-use site that makes money from advertising. We have a modified experience for viewers using ad blockers

Wikia is not accessible if you've made further modifications. Remove the custom ad blocker rule(s) and the page will load as expected.