Details
Start point
Inspect the Lumbridge Guide.
Official difficulty
Special
Description
You need a cake of guidance to protect the Lumbridge Guide. Wizard Traiborn in the Wizards' Tower can teach you how to make one.
Length
Short
Requirements

40  Cooking
Completion of the following quests:

Items required

Recommended:

Enemies to defeat
None
Walkthrough
Talk to Wizard Traiborn on the 1st2nd floor[U.K. floor] of the Wizard's Tower. (Code: dis) All of the required items can be bought from the Culinaromancer's Chest!
Egg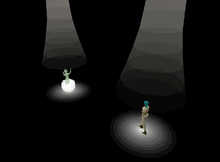 You must pass a short quiz to get your egg enchanted. You will be shown an NPC that you've seen in one of the required quests, then will be asked who it is. Answer correctly three times to get the egg enchanted.
Some of the people:
Milk
You will be asked a general question about RuneScape. Answer three correctly to get it enchanted.
Some of the questions:
Flour
You must pass a memory test. You will be shown ten items, then must answer a question about them. Answer them to get enchanted flour. The print screen function may be helpful.
Note that using Esc to close the interface will reset that portion of the test.
Use all three ingredients on the cake tin—then, cook the cake, and give it to the frozen guide.
Rewards
Subquest of Recipe for Disaster

NPCs
Items

 Enchanted egg •  Enchanted flour •  Enchanted milk •  Raw guide cake •  Cake of guidance

Locations

Music
Subquests

Another Cook's Quest • Freeing the Goblin generals • Freeing the Mountain dwarf • Freeing Evil Dave • Freeing the Lumbridge Guide • Freeing Pirate Pete • Freeing Skrach Uglogwee • Freeing Sir Amik Varze • Freeing King Awowogei

Monsters

Agrith-Na-Na • Flambeed • Karamel • Dessourt • Gelatinnoth Mother • Culinaromancer

Rewards

 Antique lamp

Related
Ad blocker interference detected!
Wikia is a free-to-use site that makes money from advertising. We have a modified experience for viewers using ad blockers

Wikia is not accessible if you've made further modifications. Remove the custom ad blocker rule(s) and the page will load as expected.