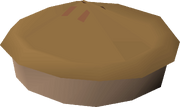 Redberry pie is a food item that is eaten in two slices, healing 5 hitpoints each slice. A player may cook a redberry pie if they are level 10 in

Cooking, by adding redberries to a pie shell (made by placing pastry dough in a pie dish) to make an uncooked berry pie, then cooking it on a range. Upon successful cooking, the player receives 78 Cooking experience. Redberry pies can also be purchased from Romily Weaklax for as low as 12 coins at the Cooks' Guild.
Each bite heals 5 hitpoints, for a total of 10 hitpoints per pie.
A redberry pie is used in The Knight's Sword quest as a "present" for Thurgo the dwarf who lives near Mudskipper Point.
Half a redberry pie spawns in the Pirate Hut in very deep Wilderness.
Pies

 Redberry •  Meat •  Mud •  Apple •  Garden •  Fish •  Botanical •  Mushroom •  Admiral •  Wild •  Summer

Raw/uncooked pies

 Redberry •  Meat •  Mud •  Apple •  Garden •  Fish •  Botanical •  Mushroom •  Admiral •  Wild •  Summer

Part pies

 Pie shell •  Mud 1 •  Mud 2 •  Garden 1 •  Garden 2 •  Fish 1 •  Fish 2 •  Admiral 1 •  Admiral 2 •  Wild 1 •  Wild 2 •  Summer 1 •  Summer 2

Ingredients

 Pastry dough •  Redberries •  Cooked meat •  Compost •  Cooking apples •  Tomato •  Onion •  Cabbage •  Trout •  Cod •  Raw potato •  Salmon •  Tuna •  Raw bear meat •  Raw chompy •  Raw rabbit •  Strawberry •  Sulliuscep cap •  Watermelon •  Golovanova fruit top