A Redwood tree requires level 90 Woodcutting to chop down and grants 380 Woodcutting experience per set of redwood logs. Unlike other standard logs, players are not able to fletch these logs into anything other than arrow shafts, due to them being too strong and resistant.
These trees are found exclusively in the Woodcutting Guild. As the trees are very large, there are two levels built around it. The first level is accessible via the rope ladders at the very bottom, while the second level is accessed via the carved entrance between the trees. Each side of the trees have 2 sections to chop, totaling to 6 sections per tree and 24 sections overall.
Cutting redwoods can provide a player up to 70k experience per hour. A lumberjack outfit can be worn in order to increase experience gained by 2.5% if the player has the full outfit. Players cannot obtain bird nests from woodcutting redwood trees. However, they still can receive clue nests.
Although redwoods grant much slower experience than power-cutting teaks, they require extremely little attention, as one side can typically be chopped for minutes before it runs out. Chopping logs does not prevent idle logout however, so the player should interact with the client at least every 5 minutes.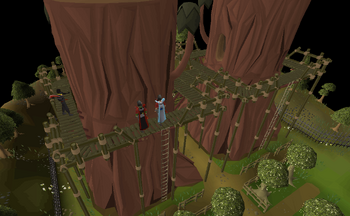 Ad blocker interference detected!
Wikia is a free-to-use site that makes money from advertising. We have a modified experience for viewers using ad blockers

Wikia is not accessible if you've made further modifications. Remove the custom ad blocker rule(s) and the page will load as expected.