Retribution
Level
46
Drain rate
5 points per minute (1 point per 12 seconds)
Effect
Inflicts damage on nearby enemies if you die
[view] • [talk]
Retribution is an overhead Prayer unlocked at level 46 Prayer. It inflicts up to 25% of the user's Prayer level as damage to nearby enemies if you die.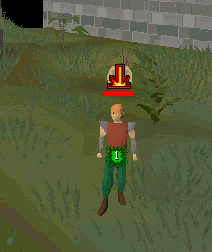 Defence Prayers
Strength Prayers
Attack Prayers

 Clarity of Thought •  Improved Reflexes •  Incredible Reflexes

Ranged Prayers
Magic Prayers

Restoration Prayers

Protection Prayers

 Protect Item •  Protect from Magic •  Protect from Missiles •  Protect from Melee

Other Prayers
Ad blocker interference detected!
Wikia is a free-to-use site that makes money from advertising. We have a modified experience for viewers using ad blockers

Wikia is not accessible if you've made further modifications. Remove the custom ad blocker rule(s) and the page will load as expected.