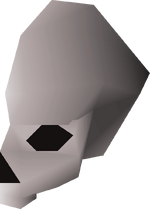 A right skull half is one of 4 parts needed to make a skull sceptre, and can be found by killing a Minotaur on the first level of the Stronghold of Security, the Vault of War. These minotaurs can be either low or high level and are not aggressive. It is combined with a left skull half to make a strange skull. It cannot be traded, bought or sold. It is a fairly uncommon drop, as are the other pieces of the Sceptre. It seems to have the highest drop rate of any of the pieces of the Sceptre. You can also get more than one skull half at a time, without using the drop trick. Interestingly, the skull half looks like that of an ankou, while the left skull halves dropped by Ankous seem to be minotaur skulls.
Dropping monsters
Edit
| Monster | Combat level | Quantity | Rarity |
| --- | --- | --- | --- |
| Minotaur | 12; 27 | 1 | |
 Strange skull

 Right skull half •  Left skull half

 Runed sceptre
Ad blocker interference detected!
Wikia is a free-to-use site that makes money from advertising. We have a modified experience for viewers using ad blockers

Wikia is not accessible if you've made further modifications. Remove the custom ad blocker rule(s) and the page will load as expected.