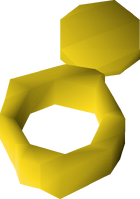 The ring of coins is obtained as a rare master clue scroll reward from Treasure Trails. It can change the model of the player to look like a pile of coins.
While this effect is active, the player cannot move, or it will end. If another player right clicks on the character disguised as coins, the usual options will appear, i.e. "Walk here", "Follow" etc.
The ring of coins has a drop-rate of 1/7,300[1]
Standard

 Opal •  Gold •  Jade •  Topaz •  Sapphire •  Emerald •  Ruby •  Diamond •  Dragonstone •  Onyx •  Zenyte

Enchanted

 Pursuit •  Returning •  Efaritay's aid •  Recoil •  Dueling •  Forging •  Life •  Wealth (imbued) •  Stone •  Suffering (imbued)

Fremennik

 Archers (imbued) •  Berserker (imbued) •  Seers (imbued) •  Warrior (imbued)

Wilderness

 Treasonous (imbued) •  Tyrannical (imbued) •  Ring of the gods (imbued)

Other

 Beacon •  Charos (activated) •  Coins •  Easter •  Granite (imbued) •  Lunar •  Nature •  'Perfect' •  Slayer (eternal) •  Stolen garnet •  Visibility
Ad blocker interference detected!
Wikia is a free-to-use site that makes money from advertising. We have a modified experience for viewers using ad blockers

Wikia is not accessible if you've made further modifications. Remove the custom ad blocker rule(s) and the page will load as expected.