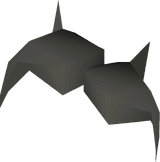 Rock-shell gloves are a members-only piece of armour. Players don't require any stats or need any quests completed in order to wear the boots or gloves, unlike the other pieces of the Rock-shell armour set.
The gloves are obtained from Giant Rock Crabs as drops or can be obtained by trading with another player. The player does not need to wear the boots along with the other pieces of the Rock-shell armour set to have an honorific added to their Fremennik name in Rellekka. They are necessary to make the armour into a set to store in a Costume room.
Bonuses
Hover over image for type
 Attack bonus
+0
+0
+0
+0
+0
 Defence bonus
+0
+1
+2
+0
+0
Other bonuses
Slot

list

+0
0
0%
+0
Yak-hide armour
Rock-shell armour
Spined armour
Skeletal armour

Fremennik robes

Rings

 Warrior (imbued) •  Berserker (imbued) •  Seers (imbued) •  Archers (imbued)

Helms

 Fremennik •  Archer •  Berserker •  Farseer •  Warrior •  Helm of neitiznot

Fremennik cloaks

 Cyan •  Brown •  Blue •  Green •  Red •  Grey •  Yellow •  Teal •  Purple •  Pink •  Black

Fremennik shirts

Others
Ad blocker interference detected!
Wikia is a free-to-use site that makes money from advertising. We have a modified experience for viewers using ad blockers

Wikia is not accessible if you've made further modifications. Remove the custom ad blocker rule(s) and the page will load as expected.