A rock can be obtained in the Mogre Camp by picking them up. They are required to enter the Crab Pen which is primarily used during Recipe for Disaster. It is never seen in the inventory as they disappear upon entry.
A glitch exists where it is possible to see it in the inventory by using Telekinetic Grab to obtain the rock from the Crab pen. The animation of picking them up on land is the same as picking them up underwater.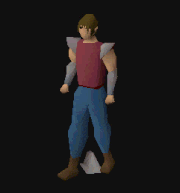 Subquest of Recipe for Disaster

Characters

| | |
| --- | --- |
| NPCs | Pirate Pete • Mogre Guard • Murphy • Nung |
| Monsters | |

Items

 Fishbowl helmet •  Diving apparatus •  Mudskipper hide •  Rock

Crab parts

 Fresh crab claw •  Broken crab claw •  Crab claw •  Fresh crab shell •  Broken crab shell •  Crab helmet

Fishcakes & ingredients

 Breadcrumbs •  Crab meat •  Ground cod •  Ground crab meat •  Ground kelp •  Kelp •  Raw fishcake •  Cooked fishcake •  Burnt fishcake

Locations

Music
Ad blocker interference detected!
Wikia is a free-to-use site that makes money from advertising. We have a modified experience for viewers using ad blockers

Wikia is not accessible if you've made further modifications. Remove the custom ad blocker rule(s) and the page will load as expected.