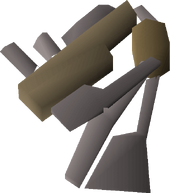 The rogue kit can be obtained as a reward from the Rogues' Den minigame. When used, it can be made into a chisel, rope, tinderbox, or spade. Once used, it cannot be changed back.
The main use of this item would be in cases where you're doing something like a quest, where you might not be sure what items you might need, but one of the above items might end up being useful.
One advantage of rogue kits is that they stack in inventory, so a player can carry a large number while only using up one slot. This can be useful for bosses like the Kalphite Queen where the player needs more than one rope to enter her lair.
The concept as well as the examine text imply that the kit may have been based on a Swiss Army Knife.
Ad blocker interference detected!
Wikia is a free-to-use site that makes money from advertising. We have a modified experience for viewers using ad blockers

Wikia is not accessible if you've made further modifications. Remove the custom ad blocker rule(s) and the page will load as expected.