The Rotten egg is an item available only to Jagex Moderators, similar to the rotten potato. It is unknown what its function is, but is assumed to be used for testing features on the Old School RuneScape servers.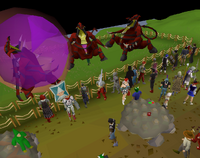 It is found to have several right-click options, of which their function is unknown:
Ad blocker interference detected!
Wikia is a free-to-use site that makes money from advertising. We have a modified experience for viewers using ad blockers

Wikia is not accessible if you've made further modifications. Remove the custom ad blocker rule(s) and the page will load as expected.