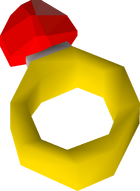 The Ruby ring is a jewellery item that players can make by using a gold bar, a ruby and a ring mould on a furnace. It requires a Crafting level of 34, and provides 70 experience when made, or it can be bought from Irksol in Zanaris. They can also be obtained from bird nests.
With level 49 Magic, it can be enchanted into a Ring of forging using the spell Lvl-3 Enchant, which requires one cosmic rune and five fire runes.
This item can be sold to Grum's Gold Exchange in Port Sarim, with a starting price of 1417 coins if none are in stock.
A ruby ring spawn is located on a table in the cellar downstairs of the Varrock west bank. Note that the spawn is located too far from the player to be retrievable with the Telekinetic Grab spell.
Bonuses
Hover over image for type
 Attack bonus
+0
+0
+0
+0
+0
 Defence bonus
+0
+0
+0
+0
+0
Other bonuses
Slot

list

+0
0
0%
+0
Standard

 Opal •  Gold •  Jade •  Topaz •  Sapphire •  Emerald •  Ruby •  Diamond •  Dragonstone •  Onyx •  Zenyte

Enchanted

 Pursuit •  Returning •  Efaritay's aid •  Recoil •  Dueling •  Forging •  Life •  Wealth (imbued) •  Stone •  Suffering (imbued)

Fremennik

 Archers (imbued) •  Berserker (imbued) •  Seers (imbued) •  Warrior (imbued)

Wilderness

 Treasonous (imbued) •  Tyrannical (imbued) •  Ring of the gods (imbued)

Other

 Beacon •  Charos (activated) •  Coins •  Easter •  Granite (imbued) •  Lunar •  Nature •  'Perfect' •  Slayer (eternal) •  Stolen garnet •  Visibility
Ad blocker interference detected!
Wikia is a free-to-use site that makes money from advertising. We have a modified experience for viewers using ad blockers

Wikia is not accessible if you've made further modifications. Remove the custom ad blocker rule(s) and the page will load as expected.