Discord is a free text and voice chat medium. The application can be used from within the web browser or downloaded, with the link for both being on the homepage of its website: https://discordapp.com. It is available for several operating systems, and can be accessed via a web-app on certain browsers, which can be seen in the table below.
Supported Operating Systems
Edit
| Operating System | Versions applicable |
| --- | --- |
| Windows | Windows 7 SP1&2, Windows 8, Windows 8.1, Windows 10 |
| Macintosh OSX | OSX 10.10 (Yosemite), OS X El Capitan - 10.11, macOS Sierra - 10.12 |
| Android | Android 4.1 (Jellybean), Android 4.4/4.5 (KitKat), Android 5.0/5.1 (Lollipop), Android 6.0 (Marshmallow), Android 7.0/7.1 (Nougat) |
| Apple iOS | iOS 8.1, iOS 9, iOS 10 |
| Browser | Google Chrome, Opera, Mozilla Firefox |
| Linux OS | Coming Soon... |
RuneScape Wiki server
Edit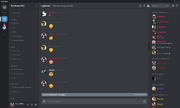 To receive an invite to the RuneScape Wiki's discord, simply follow this link: https://discord.gg/runescapewiki.
Information
Edit
The server is open to all, and it can be used to discuss the game, the wiki, or anything else. We're a laid back community that tries not to take ourselves or anything too seriously, so come hang out with us!
All of the Wiki's rules and all of RuneScape's rules apply here. If you need additional detail, see the clan chat's rules (as very similar media they basically apply fine here too). If you need less detail, see RS:DBAD.
Offending users may have their roles removed (if they have any), their ability to use text and/or voice chat in any/all channels removed, or may outright banned from the server temporarily or permanently, at the discretion of the administrators.
Channels may be renamed, added, or removed on the fly. These are the 'core' channels and names, check the #welcome channel for recent updates.
Text
Voice
Much like channels, roles may be renamed on the fly. Currently, they are generally given out ad hoc, so if you feel you need one, talk to one of the @bestcats.
Two-factor authentication can be used on Discord. It is required to be enabled on your account to use most permissions of @bearcats and @radmins, though it is recommended that everyone enable it.
With one exception, the bots can only talk in the #bots channel.
Interlanguage
Edit
The RuneScape Wiki server is happy to accommodate non-English RuneScape Wikis by providing a #wiki and recent changes channel (and access to easier collaboration/coding help/etc with English RuneScape Wiki editors, if needed). If you are an administrator of another language RuneScape Wiki and want to branch off of this server instead of (or in addition to) creating your own, please contact one of the @bestcats or @radmins.
Ad blocker interference detected!
Wikia is a free-to-use site that makes money from advertising. We have a modified experience for viewers using ad blockers

Wikia is not accessible if you've made further modifications. Remove the custom ad blocker rule(s) and the page will load as expected.