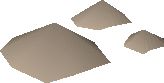 Rune dust can be made by using a hammer or a chisel on a rune essence or pure essence stone to crack them into rune shards, and then grinding these down in a pestle and mortar.
Rune shards and rune dust appear in the Garden of Tranquility quest, when rune dust must be added to a plant cure potion to revive some badly damaged vines in Bernald's garden behind the bar in Burthorpe.
Ad blocker interference detected!
Wikia is a free-to-use site that makes money from advertising. We have a modified experience for viewers using ad blockers

Wikia is not accessible if you've made further modifications. Remove the custom ad blocker rule(s) and the page will load as expected.