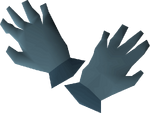 Rune gloves are special metal gloves that can be bought from the Culinaromancer's chest after completion of seven Recipe for Disaster subquests.
These gloves are a great option for high risk activities such as PVP, as they only cost 6,500 GP whilst still providing higher bonuses than a combat bracelet.
While only 1 Defence is required to wear these gloves, it is impossible to obtain them without reaching at least 34 Defence, due to the minimum 20,000 Defence experience from Monkey Madness I (required to complete the King Awowogei sub-quest) and 2,000 Defence experience from Nature Spirit (required to complete the Lumbridge Guide sub-quest).
As with all glove-based melee equipment, this item cannot be made using the Smithing skill.
Bonuses
Hover over image for type
 Attack bonus
+8
+8
+8
+4
+8
 Defence bonus
+8
+8
+8
+4
+8
Other bonuses
Slot

list

+8
0
0%
+0

 Hardleather •

 Bronze •

 Iron •

 Steel •

 Black •

 Mithril •

 Adamant •
 Rune •

 Dragon •

 Barrows
Weapons

 Dagger •  Axe •  Mace •  Claws •  Sword •  Longsword •  Scimitar •  Spear •  Warhammer •  Battleaxe •  2h sword •  Halberd •  Hasta •  Pickaxe •  Cane

Armour

 Med helm •  Full helmet (t) (g) •  Square shield •  Kiteshield (t) (g) •  Chainbody •  Platebody (t) (g) •  Plateskirt (t) (g) •  Platelegs (t) (g) •  Boots •  Gloves •  Defender

Gilded equipment

| | |
| --- | --- |
| Weapons | |
| Armour |  Full helm •  Platebody •  Platelegs •  Kiteshield •  Boots •  Med helm •  Chainbody •  Plateskirt •  Square shield |

Rune god armour

| | |
| --- | --- |
| Guthix |  Full helm •  Platebody •  Platelegs •  Plateskirt •  Kiteshield |
| Saradomin |  Full helm •  Platebody •  Platelegs •  Plateskirt •  Kiteshield |
| Zamorak |  Full helm •  Platebody •  Platelegs •  Plateskirt •  Kiteshield |
| Bandos |  Full helm •  Platebody •  Platelegs •  Plateskirt •  Kiteshield |
| Armadyl |  Full helm •  Platebody •  Platelegs •  Plateskirt •  Kiteshield |
| Ancient |  Full helm •  Platebody •  Platelegs •  Plateskirt •  Kiteshield |

Rune heraldic armour

Ranged

 Crossbow •  Bolts •  Arrows •  Brutal arrows •  Darts •  Javelins •  Thrownaxe •  Throwing knife

Other

 Bar •  Nails •  Arrowtips •  Javelin heads •  Dart tips •  Unfinished bolts •  Broken axe •  Broken pickaxe