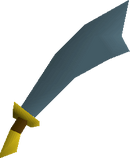 The rune scimitar is the second strongest scimitar available, behind only the Dragon scimitar. Like all rune weapons, it requires 40 Attack to wield.
Players can make a rune scimitar with the smithing skill at level 90 using 2 rune bars, giving the player 150 smithing experience. It also can be dropped by various monsters such as fire giants or mummies.
The rune scimitar is widely considered to be the most powerful melee weapon in free-to-play servers; its attack speed results in arguably the highest damage-per-second among rune weaponry.
A members-only alternative to the rune scimitar is the rapier for those who are able to complete the Cabin Fever quest; the rapier has identical stats, with the slash and stab bonuses inverted. This makes the rapier better against NPCs weak to stab and a feasible option on Ironman mode.
Bonuses
Hover over image for type

A player wielding a rune scimitar.
 Attack bonus
+7
+45
-2
+0
+0
 Defence bonus
+0
+1
+0
+0
+0
Other bonuses
Slot

list

+44
?
?
+0
Combat styles
Edit
Dropping monsters
Edit
The rune scimitar matches the Adamant 2h sword's strength bonus, and is much faster, whilst having a marginally higher slash bonus.
Scimitar

 Bronze •  Iron •  Steel •  Black •  White •  Mithril •  Adamant •  Rune •  Gilded •  Dragon (or)

Longsword

 Bronze •  Iron •  Steel •  Black •  White •  Mithril •  Adamant •  Katana •  Rune •  Granite •  Dragon •  3rd age

Battleaxe

 Bronze •  Iron •  Steel •  Black •  White •  Mithril •  Adamant •  Rune •  Leaf-bladed •  Dragon

Claws

 Bronze •  Iron •  Steel •  Black •  White •  Mithril •  Adamant •  Rune •  Dragon

Halberd

 Bronze •  Iron •  Steel •  Black •  White •  Mithril •  Adamant •  Rune •  Dragon •  Crystal

Two-handed sword

| | |
| --- | --- |
| Standard |  Bronze •  Iron •  Steel •  Black •  White •  Mithril •  Adamant •  Rune •  Gilded •  Dragon |
| Godswords | |
| Other | |

Quests

 Blurite •  Anger sword •  Anger battleaxe •  Excalibur •  Silverlight •  Darklight •  Wooden spoon •  Skewer •  Cleaver

Castle Wars

Other

 Iron sickle •  Silver sickle (b) •  Starter sword •  Spear •  Harry's cutlass •  Lucky cutlass •  Brine sabre •  Fremennik •  Arclight •  Abyssal whip (volcanic) (frozen) •  Abyssal tentacle •  Scythe of vitur
Weapons

 Dagger •  Axe •  Mace •  Claws •  Sword •  Longsword •  Scimitar •  Spear •  Warhammer •  Battleaxe •  2h sword •  Halberd •  Hasta •  Pickaxe •  Cane

Armour

 Med helm •  Full helmet (t) (g) •  Square shield •  Kiteshield (t) (g) •  Chainbody •  Platebody (t) (g) •  Plateskirt (t) (g) •  Platelegs (t) (g) •  Boots •  Gloves •  Defender

Gilded equipment

| | |
| --- | --- |
| Weapons | |
| Armour |  Full helm •  Platebody •  Platelegs •  Kiteshield •  Boots •  Med helm •  Chainbody •  Plateskirt •  Square shield |

Rune god armour

| | |
| --- | --- |
| Guthix |  Full helm •  Platebody •  Platelegs •  Plateskirt •  Kiteshield |
| Saradomin |  Full helm •  Platebody •  Platelegs •  Plateskirt •  Kiteshield |
| Zamorak |  Full helm •  Platebody •  Platelegs •  Plateskirt •  Kiteshield |
| Bandos |  Full helm •  Platebody •  Platelegs •  Plateskirt •  Kiteshield |
| Armadyl |  Full helm •  Platebody •  Platelegs •  Plateskirt •  Kiteshield |
| Ancient |  Full helm •  Platebody •  Platelegs •  Plateskirt •  Kiteshield |

Rune heraldic armour

Ranged

 Crossbow •  Bolts •  Arrows •  Brutal arrows •  Darts •  Javelins •  Thrownaxe •  Throwing knife

Other

 Bar •  Nails •  Arrowtips •  Javelin heads •  Dart tips •  Unfinished bolts •  Broken axe •  Broken pickaxe