The Sandwich lady is a RuneScape random event. She appears anywhere to offer players a selection from her tray of sandwiches. Players have to be sure to take the one she offers them. If players choose the wrong pastry, the Sandwich lady will hit them with a baguette and teleport them to a random area.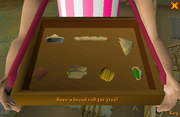 She can offer:
Ad blocker interference detected!
Wikia is a free-to-use site that makes money from advertising. We have a modified experience for viewers using ad blockers

Wikia is not accessible if you've made further modifications. Remove the custom ad blocker rule(s) and the page will load as expected.