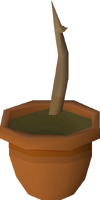 A Sapling is a tree seedling that has grown sufficiently to be planted in a tree patch. Players must have the appropriate Farming level to plant the sapling in a tree patch, which can be aided by temporary boosts. Players may apply compost, supercompost, or ultracompost to a tree patch before planting the sapling.
Despite not being farming produce, Tool Leprechauns will note saplings. Players should be careful when planting saplings as otherwise they will have to visit a bank to unnote them.
List of saplings
Edit
Fruit trees
Edit
Special trees
Edit
Sapling
level
Planting
experience
Exchange price
Teak sapling
35
25

11,436

Mahogany sapling
55
63

17,634

Calquat sapling
72
129.5

542

Spirit sapling
83
199.5
N/A
Ad blocker interference detected!
Wikia is a free-to-use site that makes money from advertising. We have a modified experience for viewers using ad blockers

Wikia is not accessible if you've made further modifications. Remove the custom ad blocker rule(s) and the page will load as expected.