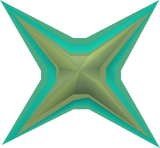 Saradomin's light is an item obtained by killing Commander Zilyana in the God Wars Dungeon. It can be used to permanently remove the darkness in Zamorak's Fortress in the God Wars Dungeon, which in turn allows the player to see better and more clearly. However, doing so will not prevent the prayer drain from occurring when players enter Zamorak's Fortress.
Attempting to consume it will cause a message in the chatbox that states As you commune with the holy star, you feel the light of Saradomin preparing to fill your mind and enlighten your vision. If you submit, it will help you see through the darkness of Zamorak's evil.
If players proceed with letting the light in, a message appears in the chatbox, stating You submit to the light of Saradomin. Zamorak's darkness will henceforth have no effect on you.
Dropping monsters
Edit
Saradomin's light is one of three unique boss drops that are not dropped by the respective bodyguards (excluding hilts), the others being Staff of the dead and Armadyl crossbow.
Godswords

 Armadyl (or) •  Bandos (or) •  Saradomin (or) •  Zamorak (or)

Armadyl armour
Bandos armour

 Chestplate •  Tassets •  Boots

Weapons

 Saradomin sword (blessed) •  Zamorakian spear (hasta) •  Staff of the dead (toxic)
 Armadyl crossbow •  Steam battlestaff (or)

Pets

 Kree'arra •  General Graardor •  Commander Zilyana •  K'ril Tsutsaroth

Other

 Ecumenical key •  Saradomin's light
Ad blocker interference detected!
Wikia is a free-to-use site that makes money from advertising. We have a modified experience for viewers using ad blockers

Wikia is not accessible if you've made further modifications. Remove the custom ad blocker rule(s) and the page will load as expected.