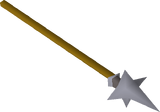 The saradomin mjolnir is a two-handed members-only weapon. There are no skill requirements to wield this item. To obtain one, a player can either find it during the Enchanted key miniquest or trade with another player.
Each mjolnir can only be obtained once per account, as the enchanted key will disintegrate after the player finds all of the treasure. Once this happens, the key cannot be re-obtained.
As its name implies, the saradomin mjolnir is affiliated with the god Saradomin. It is tipped with a symbol associated with Saradomin, the Star of Saradomin. However, it does not provide a Prayer bonus or protection from the Saradomin monsters in the God Wars Dungeon.
Bonuses
Hover over image for type

A player wielding a Saradomin mjolnir.
 Attack bonus
+0
+0
+11
+0
+0
 Defence bonus
+0
+0
+0
+0
+0
Other bonuses
Slot

list

+14
0
0%
+0
Combat styles
Edit
Mace

 Bronze •  Iron •  Steel •  Black •  White •  Ancient •  Mithril •  Adamant •  Rune •  Tzhaar-ket-em •  Dragon

Warhammer

 Bronze •  Iron •  Steel •  Black •  White •  Mithril •  Adamant •  Rune •  Granite •  Dragon

Cane
Kitchen weaponry
Maul
Mjolnir

 Guthix mjolnir •  Saradomin mjolnir •  Zamorak mjolnir

Other

 Hill giant club •  Barrelchest anchor •  Verac's flail •  Torag's hammers •  Abyssal bludgeon
Ad blocker interference detected!
Wikia is a free-to-use site that makes money from advertising. We have a modified experience for viewers using ad blockers

Wikia is not accessible if you've made further modifications. Remove the custom ad blocker rule(s) and the page will load as expected.