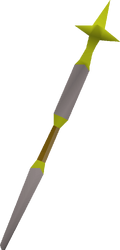 The Saradomin staff is an item that can be obtained by defeating Kolodion in the Wilderness Mage Arena. This staff is required to cast Saradomin Strike, and this spell can only be used outside the arena after it has been cast 100 times against other mages in the arena. It requires a Magic level of 60 to wield. This staff can not be retrieved on death, another must be purchased.
All god staves have the same stats so choose based on spell or god wars equipment.
Bonuses
Hover over image for type

A player wielding a Saradomin staff.
 Attack bonus
-1
-1
+6
+6
+0
 Defence bonus
+2
+3
+1
+6
+0
Other bonuses
Slot

list

+2
0
0%
+0
Combat styles
Edit
During some quests and cutscenes, the Wise Old Man is seen performing devastating melee attacks with this staff despite it only having a strength bonus of +2.
NPCs
God staves
God capes
Imbued god capes
God spells

 Claws of Guthix •  Saradomin Strike •  Flames of Zamorak •  Charge
Staves

 Staff •  Magic •  White •  Air •  Water •  Earth •  Fire •  Ancient •  Slayer's (e) •  Iban's (upgraded) •  Toktz-mej-tal •  Ahrim's •  Staff of the dead •  Toxic staff of the dead

Battlestaves

 Battlestaff •  Air •  Water •  Earth •  Fire •  Lava (or) •  Mud •  Steam (or) •  Smoke •  Mist •  Dust

Mystic staves

 Air •  Water •  Earth •  Fire •  Lava (or) •  Mud •  Steam (or) •  Smoke •  Mist •  Dust

God staves
Croziers

Other staves

 Broken •  Staff of armadyl •  Skull sceptre (i) •  Dramen •  Lunar •  Rod of ivandis •  Trident of the seas •  Trident of the swamp •  Pharaoh's sceptre •  Void knight mace
Ad blocker interference detected!
Wikia is a free-to-use site that makes money from advertising. We have a modified experience for viewers using ad blockers

Wikia is not accessible if you've made further modifications. Remove the custom ad blocker rule(s) and the page will load as expected.