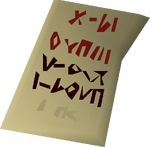 The scrawled note is an item obtained while searching the crate in Ungadulu's cave during Legends Quest. It reads:
"
Daily notes of Ungadulu ... Day 1 ... I have prepared the incantations and will invoke the spirits of my ancestors and pay them homage. Though I feel a strange presence in these caves, it is with the heart of the lion that I fight my fears and mark the magical octagram.

Day 2 ... What have I done? My spirit is overthrown by feelings of fear and evil, I am not myself these days and feel helpless and weak. From my teachings ...

"
Ad blocker interference detected!
Wikia is a free-to-use site that makes money from advertising. We have a modified experience for viewers using ad blockers

Wikia is not accessible if you've made further modifications. Remove the custom ad blocker rule(s) and the page will load as expected.