The Sea Troll General is the second-in-command of the Sea trolls that are terrorizing the small settlement north of Eagles' Peak, the Piscatoris Fishing Colony. It is a quest monster; involved with the Swan Song quest. The Wise Old Man fights the General, easily avoiding its lumbering attacks and not even being hit by its swinging club. He destroys the troll as it attempts to flee, and is nearly victorious, thinking that he beat the trolls. As he is celebrating through a victory dance, the Sea Troll Queen appears, and deals 254 hitpoints to the Wise Old Man. His health seems unaffected, but he is incapacitated and the player must take on the Queen alone.
Though the General is a strong foe, with at least 339 hitpoints, it is never fought by the player and never gets the chance to hit the Wise Old Man. Therefore, no information about its combat level or maximum hit are known. It is a quest monster, but it is only fought in cutscene, not in an actual battle.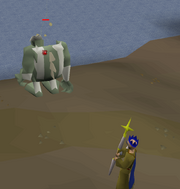 Mountain trolls

Mountain troll • Thrower troll • Troll general • Troll spectator

Ice trolls

Ice troll • Ice troll runt • Ice troll grunt • Ice troll male • Ice troll female

Aquatic trolls

Troll bosses

Dad • Arrg • Kob • Pee Hat • Kraka • Stick • Rock • Berry • Twig • Sea Troll General • Sea Troll Queen • Ice Troll King

NPC trolls

Aga • Ug • Burntmeat • My Arm • Drunken dwarf's leg • Troll child • Troll father • Troll mother • Ice troll • Tilt • Flippa • Ash • Dung • Mushroom
Ad blocker interference detected!
Wikia is a free-to-use site that makes money from advertising. We have a modified experience for viewers using ad blockers

Wikia is not accessible if you've made further modifications. Remove the custom ad blocker rule(s) and the page will load as expected.