The Sea Troll Queen is the boss monster for the quest Swan Song. She is the ruler of the Sea Trolls, and she attacks the Piscatoris Fishing Colony along with her Sea trolls. She uses Melee and a Water Wave magic attack, but her Magic hits more than her Melee attacks, so it is advised to fight her directly with Protect from Magic whilst wearing good defensive armour, as she will use a Prayer-draining attack if players fight her at a distance with prayer on. She has an extremely high Magic Defence, and she uses her magical attack more often than her Melee one.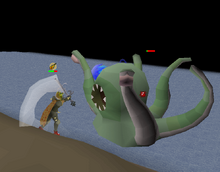 She has extremely low stab and ranged defence, and moderately low crush and slash defence. Because of this, an effective strategy would be to use a stabbing weapon or crossbow. Alternatively, players may opt for a fast weapon such as an Abyssal whip or Saradomin sword. It is also helpful to bring a weapon with a fast special attack such as a Dragon dagger. Alternatively, if you have completed Regicide, use a Dragon halberd for its special attack, as it can hit twice on monsters that are deemed 'big' (they are big if they take up two or more spaces and/or if they're tall enough).
IMPORTANT: It is EXTREMELY IMPORTANT to rush her as fast as possible if using Prayer. Her draining attack drains OVER 20 Prayer points at once. Bringing Prayer potions is advised.
She can only be killed during the quest.
She also severely injures the Wise Old Man, hitting him for 254 damage. The magical attack is not as powerful on players, however, but can still hit over 30 regularly. Her Melee attack can hit in the high 10s, but is relatively inaccurate.
A Dwarf multicannon will not work on her; she will simply destroy it.
Surprisingly, although she is the queen of Sea trolls, the Sea Troll Queen does not look like a troll at all. She looks much like a Kraken.
Mountain trolls

Mountain troll • Thrower troll • Troll general • Troll spectator

Ice trolls

Ice troll • Ice troll runt • Ice troll grunt • Ice troll male • Ice troll female

Aquatic trolls

Troll bosses

Dad • Arrg • Kob • Pee Hat • Kraka • Stick • Rock • Berry • Twig • Sea Troll General • Sea Troll Queen • Ice Troll King

NPC trolls

Aga • Ug • Burntmeat • My Arm • Drunken dwarf's leg • Troll child • Troll father • Troll mother • Ice troll • Tilt • Flippa • Ash • Dung • Mushroom